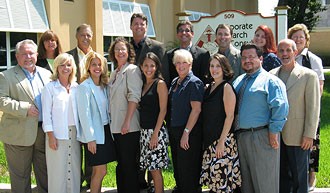 Since 1992, Corporate Search Consultants, Inc. has been in the business of pairing exceptional candidates with career-enhancing positions in some of the country's most prestigious companies and facilities. Our founding partner has been in the personnel and staffing business since 1973. The company and its senior consultants have facilitated thousands of successful placements by personal contact and by building solid relationships with great people at great companies.
Corporate Search Consultants believes in the power of quality relationships, and has worked diligently to foster key contacts throughout the nation. Many of our clients have come to us from referrals by satisfied customers, so we take our reputation and the responsibility placed on us very seriously. With total commitment to doing the right things the right way, we absolutely refuse to compromise our personal or professional integrity in our search and recruiting methods. All of our searches are completely confidential and performed with the highest attention to detail to our proven 12 Step Search and Placement Process.
We wholeheartedly mean it when we talk about "responsible recruiting, reliable results." Call us to learn how our processes and our guarantee can best serve your interests. As always, we are grateful for your visit to our company's website, and hope that you'll find your stay both rewarding and informative. We welcome you to contact us with any comments you may have regarding our company or our service.